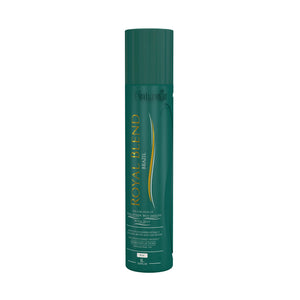 Complies with UK standards.

Designed for frizzy, frizzy and curly hair.

Offers a smooth and silky result up to 100%.

Suitable for pregnant women, nursing mothers and children.

Gives shine and extreme flexibility.

100% natural and organic product based on plants from the Amazon.

Without Formaldehyde or derivatives.

Nourishes and hydrates deeply.

Leaves a fragrant scent on the hair.

No need for clarifying shampoo.

Made in Brazil.
Royal Blend Brazil - Naturelle Cosmeticos 1 liter
Royal Blend Brazil smoothing is a blend of the three best smoothing treatments from the Naturelle Cosmeticos brand in Brazil. The fusion of Best Smooth, Royal Power and Royal Jelly gave birth to this revolutionary new smoothing.
An organic product, based on 100% natural ingredients. Macadamia oil which deeply hydrates the hair fiber. Its protective action also helps maintain hair color.
In addition, keratin , mainly used in cosmetology to strengthen the hair structure and stimulate growth. It allows the scales of the hair to be reattached by acting as a protective film, which coats and sheaths the hair. Keratin also helps to waterproof the hair and make it more resistant and stronger.
In addition, Argan oil is known for its nourishing and moisturizing properties. It protects the hair from external aggressions and repairs split ends while making the hair softer and shinier ...
Thanks to this straightening, the hair will be neat, soft and relaxed from root to tip.
How to use:
1. No need to wash hair with clarifying shampoo. Apply the product directly to clean, dry hair.
2. Apply the product to the hair using a brush and a fine comb, from root to tip. Leave 1 cm from the root.
3. Leave the product on for 30 to 45 minutes (depending on the type of hair). Cover with cellophane paper. Activate the product using the heat of a hair dryer for 10 min.
4. Rinse the hair with water to completely remove the product, without using shampoo.
5. Dry the hair 100%. No need to blow dry.
6. Divide the hair into 4 parts. Take a very fine wick and smooth it 15 to 20 times (230 ° C normal hair, 180 ° C bleached hair)
7. After 48 hours, rinse the hair only with water, without shampoo. Apply a treatment over the entire length of the hair then leave on for 10 to 15 minutes then rinse again.
8. Blow dry and style as desired.
Capacity:
-1 liter of Royal Blend Brazil.
Demonstration: