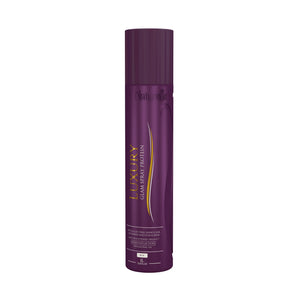 Complies with UK standards.

Designed for curly, thick and frizzy hair.

Offers a smooth and silky result.

Suitable for pregnant women, nursing mothers and children.

Gives shine and extreme flexibility.

Formaldehyde free.

Nourishes and hydrates deeply.

Leaves a fragrant scent on the hair.

Easy, quick and convenient to use.

No need for clarifying shampoo (One Step).

Made in Brazil.
Luxury Glam Protein - Natural Cosmeticos 1 liter
The Luxury Glam Protein spray smoothing is based on BI0TINE , often used as a treatment against hair loss. It is also used in cosmetology to strengthen and regenerate the structure of the hair fiber.
In addition, the blue orchid promotes and protects hair color, thanks to its blue and purple pigments. The unique formula of this straightening, composed of quality ingredients used in the care of the hair, will make your hair soft , shiny while stimulating the growth of your hair.
A New format in very concentrated spray to avoid wasting product, which allows you to do more smoothing.
How to use:
1- No need to wash the hair before application with a clarifying shampoo. Apply the product to clean hair, strand by strand using a brush, then use a fine-toothed comb to remove excess product.
2 - Let the product act for 45 to 60 minutes depending on the type of hair.
3 - Rinse the hair well until the product is completely removed, "use only water" no product residue should remain on the hair.
4 - Dry the hair 100% using a hair dryer without brushing.
5 - Start straightening very fine strands 15 to 20 times at a temperature of 230 ° C or 200 ° C if the hair is colored or bleached.
6 - Rinse the product with water only after 24/48 hours.
Capacity:
-1 liter of Luxury Glam Protein in SPRAY.
Demonstration: